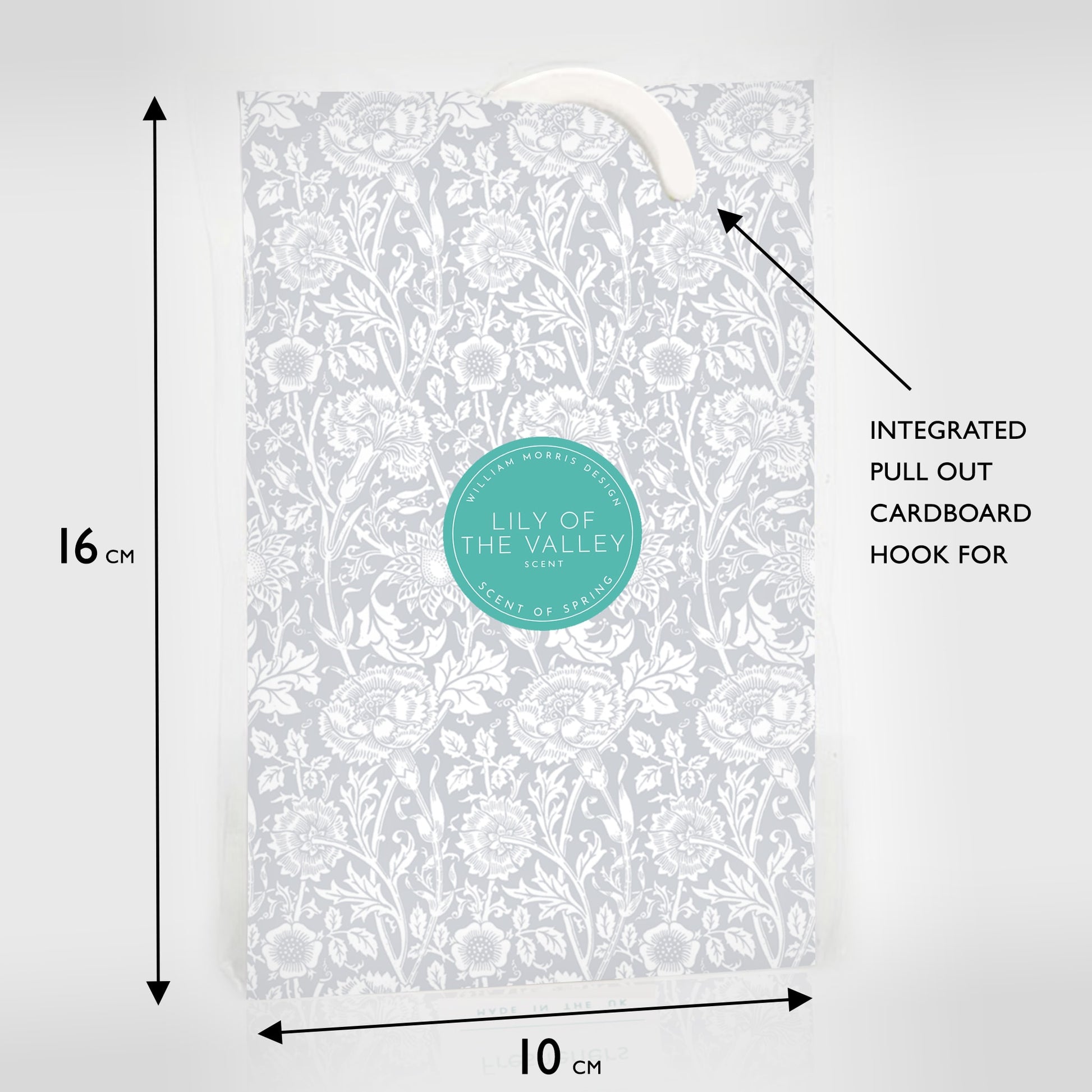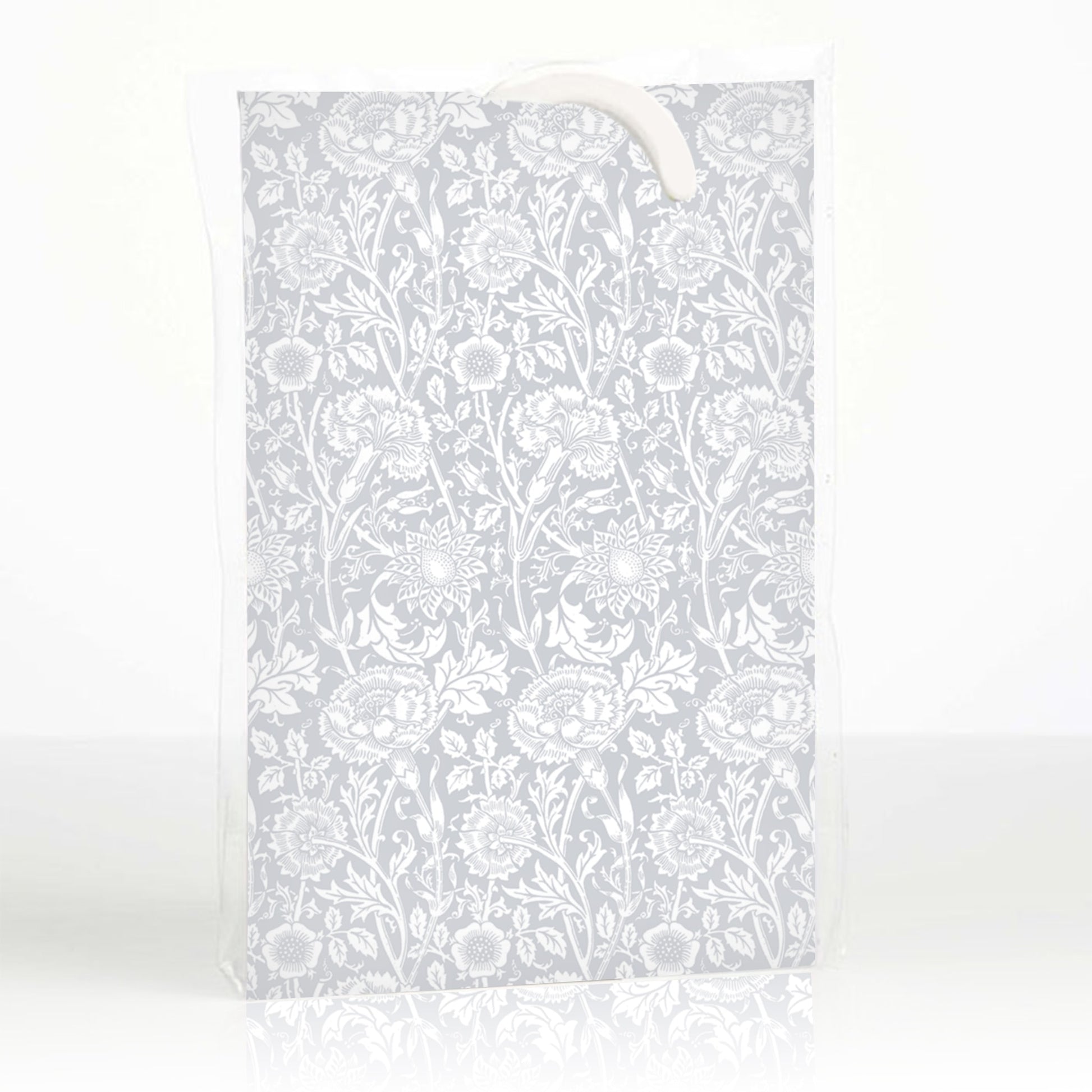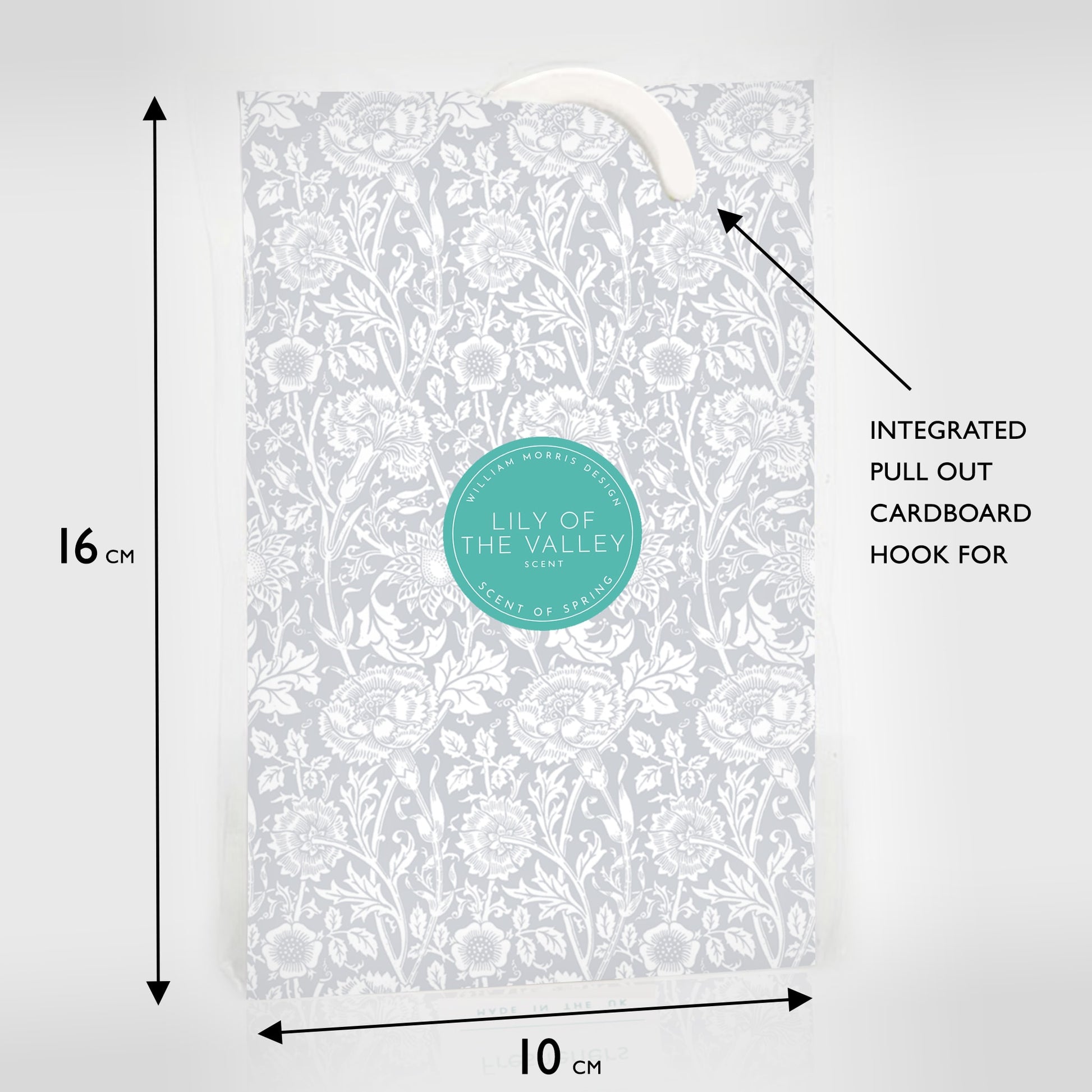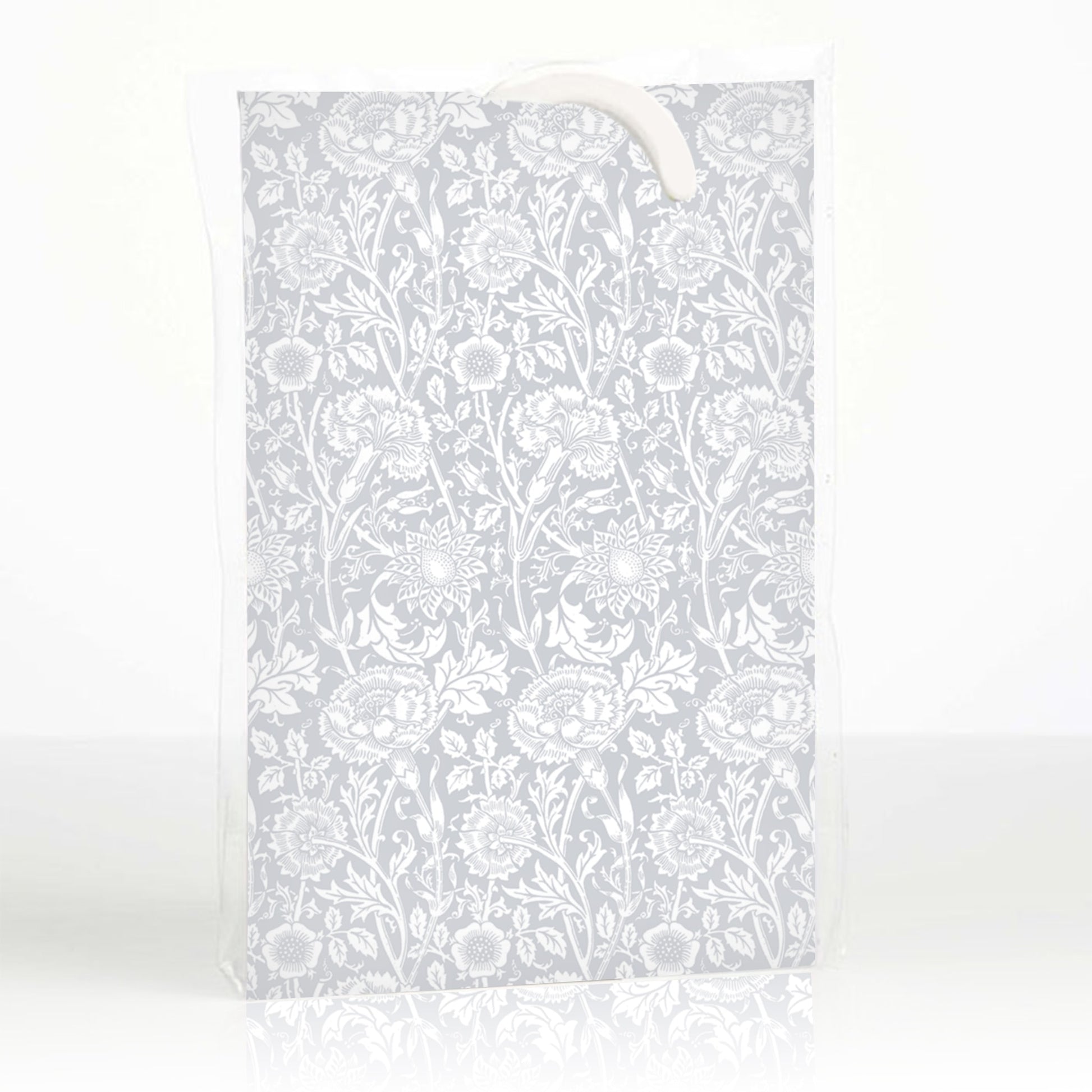 LILY SCENTED Wardrobe Freshener in a WILLIAM MORRIS DESIGN in GREY
Translation missing: en.products.product.price.regular_price
$6.00
Translation missing: en.products.product.price.sale_price
$6.00
Translation missing: en.products.product.price.regular_price
Translation missing: en.products.product.price.unit_price
Tax included.
Design available in Lavender (Blue), Rose (Pink), Sandalwood (Black), Rose (Duck Egg Blue), Lily (Grey) & Lilac (Purple)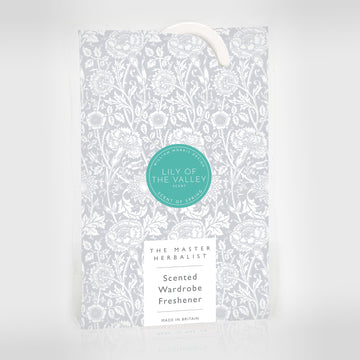 LILY SCENTED Wardrobe Freshener in a WILLIAM MORRIS DESIGN in GREY
Description
Product reviews
FAQ
The Master Herbalist's Hanging Wardrobe Freshener or Drawer Sachet to compliment our William Morris 'Pinks & Roses' Scented Drawer Liner.

This LILY OF THE VALLEY Wardrobe Freshener has a sweet LILY OF THE VALLEY fragrance and comes with an integrated retractable hook so you can hang it in your wardrobe or lay it in a drawer or cupboard.

The design is a classic elegant William Morris 'Pinks and Roses' floral print on a soft GREY background. Each Wardrobe Freshener is made from scented paper and contains a fragranced mineral pouch. It is then gently scented with our LILY OF THE VALLEY fragrance, ideal for keeping your wardrobes and cupboards smelling fresh and adding some colour.

LILY OF THE VALLEY fragrance has green and white floral notes with slightly soapy, sweet jasmine-like nuances. Evocative of spring woodlands and lush, green foliage, LILY OF THE VALLEY is a gentle, fresh fragrance perfect for any drawer, shelf or cupboard. LILY OF THE VALLEY has been used in bridal bouquets throughout history, including that of Kate Middleton.

ALL PROUDLY MADE IN THE UK.
What is in your Fragrances?
We have written a special blog post about this here - What's in our fragrances.
Do you ship to the USA / EU?
Yes - however you cannot check out direct through the website at the moment. Please read here for more information
Are your drawer liners adhesive / sticky backed?
No. They are not. They are plain paper, the wipe clean are sealed on the top with a gloss varnish and the scented are unsealed paper.
How do I fix down your drawer liners?
Depending on the size of your drawer and how abrasive the bottom surface is you may find you do not need to fix down the liners, especially if they are a snug fit. In the instance that you do, we suggest a small loop of sticky tape, double sided tape or thin photo tabs. We suggest you don't use blu tack as the oil can seep through the paper and stain it.
How to I fit your drawer liners in my drawers?
If the drawer liners are too large for the drawer, our preferred method is to fold the liners, which tends to guarantee a straightener cleaner edge than using scissors. Don't run your nails along the edge to make a tight fold as you will get a ruffle in the paper.
If you have a paper guillotine then that is perfect and you would get the best results, but we just fold them and it works well.
If the liners need doubling up, they are a perfect pattern repeat so you can overlay them and create a nice seam which is hard to spot.
What size are your drawer liners?
They are 60cm x 42cm or 23.6" x 16.5".
Why are your drawer liners the size they are?
The drawer liners size is limited by the machinery used to both print and scent the items. We have then designed them to be more economical to ship. 
Do you do a continuous roll of your drawer liners?
No. This is not possible due to the weight of the paper and the manufacturing process.
What is in your Wardrobe Fresheners?
Our Wardrobe Fresheners are main using the same scented paper as our drawer liner stock. Inside each is a scented vermiculite pouch that is compostable / biodegradable. They have a cardboard hanger. The paper content can be recycled and the Vermiculite can be used in the garden or put in the black bin.
Are you a part of the The Master Herbalist?
Yes the Simply Drawer Liners website is owned and run by The Master Herbalist and our prices are the same as on The Master Herbalist website.
Any other question don't hesitate to ask us at: info@simplydrawerliners.com